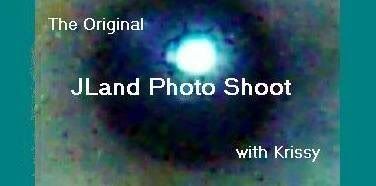 This week we have a brand new logo made by Valerie! To my knowledge, this photo shoot has been the longest running in JLand, hence its new name! A new name and a new look for a new year! Thanks to all of you who have played along since this photo shoot's inception (2004), and I hope you continue to get enjoyment for a long time to come!
This week's photo shoot will begin today (on Monday) and be due on Saturday, Jan. 12 at 11 PM EST.
Our subject this week is: a close up (interpret this to be as close as you like)
~~~~~~~~~~~~~~~~~~~~~~~~~~~~~~~~~~~~~~~~~~~~~~~~~~
For those of you who are interested, and who use digital cameras, here are some of my humble tips for taking close up photos:
A simple way to improve your photo (make the subject appear closer and larger) is to move closer to your subject. If you are unable to get closer to your subject, and you want your subject to appear closer (yet it happens to be far away), one way is to use your magnification setting.
Another way to do a close up, in digital photography, is to use the macro mode setting. You do this by turning on the camera and turning it to the Tulip icon. Read your camera book to find out how close/far you are supposed to be from your subject before taking the photograph. You can get pretty close. Use this setting when you are a couple of inches or feet from an object and you want to get a photo.
If your camera supports lenses, use any special lenses that will help you to get close ups. (This one is over my head!)
Finally, if you are not a complete purist, you can use a photoshop program to zoom in on your photo, or to crop the outside of a photo (for example a photo of a flower) so that the subject fills the frame more perfectly.
~~~~~~~~~~~~~~~~~~~~~~~~~~~~~~~~~~~~~~~~~~~~~~~~~~
To enter this photo shoot, please post your submissions by copying and pasting your full entry URL into the comments section below. For those who don't know how to do this, I will explain how in my next entry entitled:
Instructions for The Original JLand Photo Shoot with Krissy